In short, it is a card of self-confidence.People become less judgmental in a stimulating atmosphere.
This is a good time to become involved with a person of genius who can intuitively transform chaos into a higher order.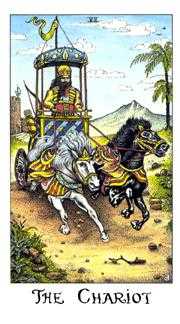 The Chariot can point to a struggle and an eventual hard-won victory. It can mean a union of opposites.. Plot your course before you set out on your journey. Though the road will twist and turn, keep your mind on your ultimate destination. If there is a characteristic weakness of this card, it is lack of foresight combined with too much speed
Don't undermine the opportunity you have before you now by allowing impulsiveness to dominate at this important time.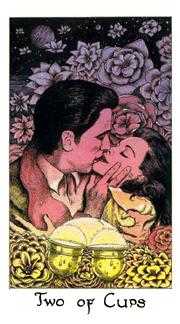 Meaning – Love, friendship, beginning of a renewed passion, union, partnership, marriage.
The Two of Cups is the image of the heart making a vow. This card advises that you pledge yourself to this friendship and put your heart on the line. You have nothing to lose and everything to gain. Life is a relationship game. It's a great privilege to share with others who are so complementary and compatible.